Photo Gallery
Contributed by
Susan Russell Freeman
Camp Blanding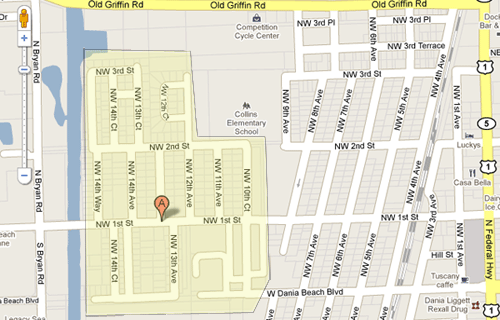 Camp Blanding has been just about lost to memory, at least as reflected on the internet. Most searches will bring you to the National Guard camp near Jacksonville. I believe Camp Blanding was eventually taken into Hollywood, FL. Now a major chunk of it is an amusement part and condominiums.
Camp Blanding was contiguous with Hollywood to the south, Dania to the east, and Ft. Lauderdale to the north. It was only about five blocks east to west and three long blocks north to south. Tigertail Road was the main route down to US 1. If you Google Map on "NW 1st St , Dania, FL" you will see a that, to the west, the street name changes to "Tigertail Blvd." Tigertail Road was the name folks used then, starting at Highway 1.
It was a real bit of the old rural south, bereft of normal services and amenties – no drinking water, pavement, street lights or police protection. The Sheriff department or Dania police might assist for emergiencies, but there was no regular patrolling. The kids would carry plastic jugs to the school in Dania to get drinking water from the outside tap. The only reference I've found to Camp Blanding is the Camp Blanding Child Care Center in Hollywood.
In Camp Blanding and Dania Gary and I spent a lot of time helping a marvelous guy, Sam Clark. Sam had been a truck driver who had to retire when a load of steel rolled off a trailer and crushed his leg. He was an outstanding community advocate and was well known and respected by the County Commissioners. Before I left I was assisting Sam in the petition to get drinking water and paved streets in Camp Blanding.
Just south of us in Hollywood—Liberia was the neighborhood, if memory serves—were the two Vistas closest to Dania, Rose Mary Reichardt and Midge. They created a most excellent project to establish a school for pregnant girls from the neighborhood. At that time, once a girl got pregnant she was not allowed to attend school.