A Thanksgiving Day Opinion Piece from a Vista's perspective

Gary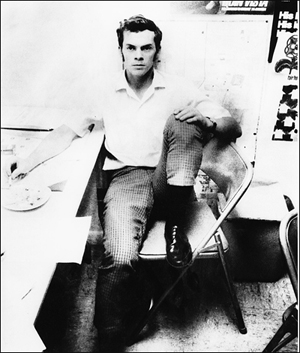 Gary Maske was the toughest guy I ever knew. He showed his stuff early on as an athlete and carried on most righteously when he and I first shared the back room of a tiny wooden house in Camp Blanding, Florida, before we moved a couple blocks east into Dania. Though shorter than my 5í11Ē by a couple of inches, he was a major league pitching prospect and, if I recall correctly, all-conference or all-state in Michigan as a safety in football. We lost Gary to cancer in January, 2004.
Federico Santi has a biography of Gary, contributed by his son, Fred, on his Vista site. The photos on this page were taken by Frederico who came to Vista in 1969.
In 1968-69 Gary and I worked in Camp Blanding, Florida, then an unincorporated piece of Broward County. See Camp Blanding for a few details and a link to photos.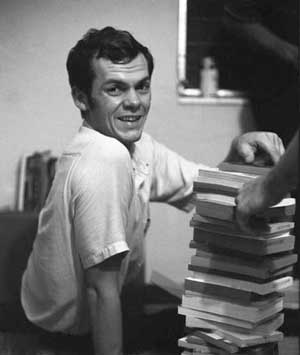 Gary, world class teacher. One of Garyís greatest gifts was working with kids, especially the younger ones. He was a devotee of the Summerhill approach, but he could adapt to suit any situation. One of our projects was an afterschool tutorial program, which Gary christened Camp Learn-a-Lot, after a program he had worked on in Idaho. Since there was a tomato processing plant on the north side of Dania, the local school was eligible for funding through a migrant program. We worked with the local school and paid one of the teachers to oversee the curriculum. Gary was the Mr, Rogers of Dania/Camp Blanding. The kids loved him and trusted him. All summer long kids kept asking if we were going to start Camp Learn-a-Lot again.
While Gary was the charismatic leader, I did the funding paperwork. I remember that the night before I left Vista in fall `69, I worked into the wee hours at the EOCG (Economic Opportuniy Coordinating Group of Broward County) office with stacks of grant application forms strewn about a conference room.
A nurturing guy. Gary loved all creatures great and small, once introduced to them, that is. Early on in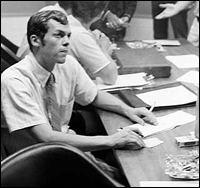 VISTA, the former Camp Blanding VISTA, Susan Freeman, wanted to give us a cat. Gary was all aginí it. Didnít like cats, said he. Well, once the cat became a member of the family, Gary was the worldís most doting uncle. He developed a life-long love of felines, for which his wife, Jane, will never forgive me. In Chapel Hill, where Jane and Gary lived for about 30 years before his death, he amassed quite a menagerie. Gary treated the little beasties as royalty and gave them all a warmed breakfast every morning. Gary left Jane with the whole furry family but, she being an ace social worker, has since found foster homes for most. Or so I believe.
Star of the Redbirds. In high school in Michigan, Gary had the second best record in the conference. Gary had been invited for tryouts in the big leagues where they said his stuff was great but he was too small to make it. I once had him throw me a few pitches and Iím here to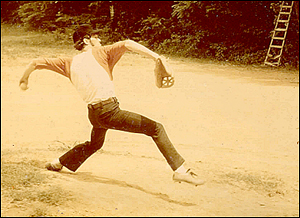 say I didnít see a thing. Where that ball went ten feet away from the plate Iíll never know. Applejack and some of the other Trojans, a young menís community service group, commandeered Gary into pitching one season and he was pretty much unhittable.
Gary and the north side guys. One night I came home and Gary was cooking up dinner. In general, he was the cook and I was cleanup. We did our usual bull and banter and it wasnít until we sat down that I noticed he had a black eye and some other scuffs. Turns out that some kids a little north of us toward Old Griffin Road didnít take to white interlopers and thought to teach him a bit about the ways of the world west of the CSX RR tracks. Gary took his lumps, walked on home and didnít feel it worthy of mention, I guess. Later, when the kids were told Gary was VISTA, they came to apologize but our neighbor, Andrew, miscontrued their intentions and chased them off with some firearm. The situation did not escalate though.
Our second night in Camp Blanding. There were a lot of guns around and folks would make pretty frequent use of them. Two nights after we arrived in Florida, Gary and I were walking up Tigertail to Ms. Westís place in Camp Blanding when four kids about 50 yards back started shooting in our direction. We could hear the bullets whizzing by. (Never heard that before, and not since). We got home and spent the next couple of weeks on the nervous side of the emotional spectrum. We learned it was just Scooter and the guys having a little fun, no harm intended. We didnít tell any of the other new Vista volunteers in our group so as not to freak them out.
Well, there are many more stories, but Iíd better get these pages posted and go from there.
We miss you brother. Yes we do.
Joe Muldoon, Vista 1968-69